Double Decker Party Boat w/Captain (25 max)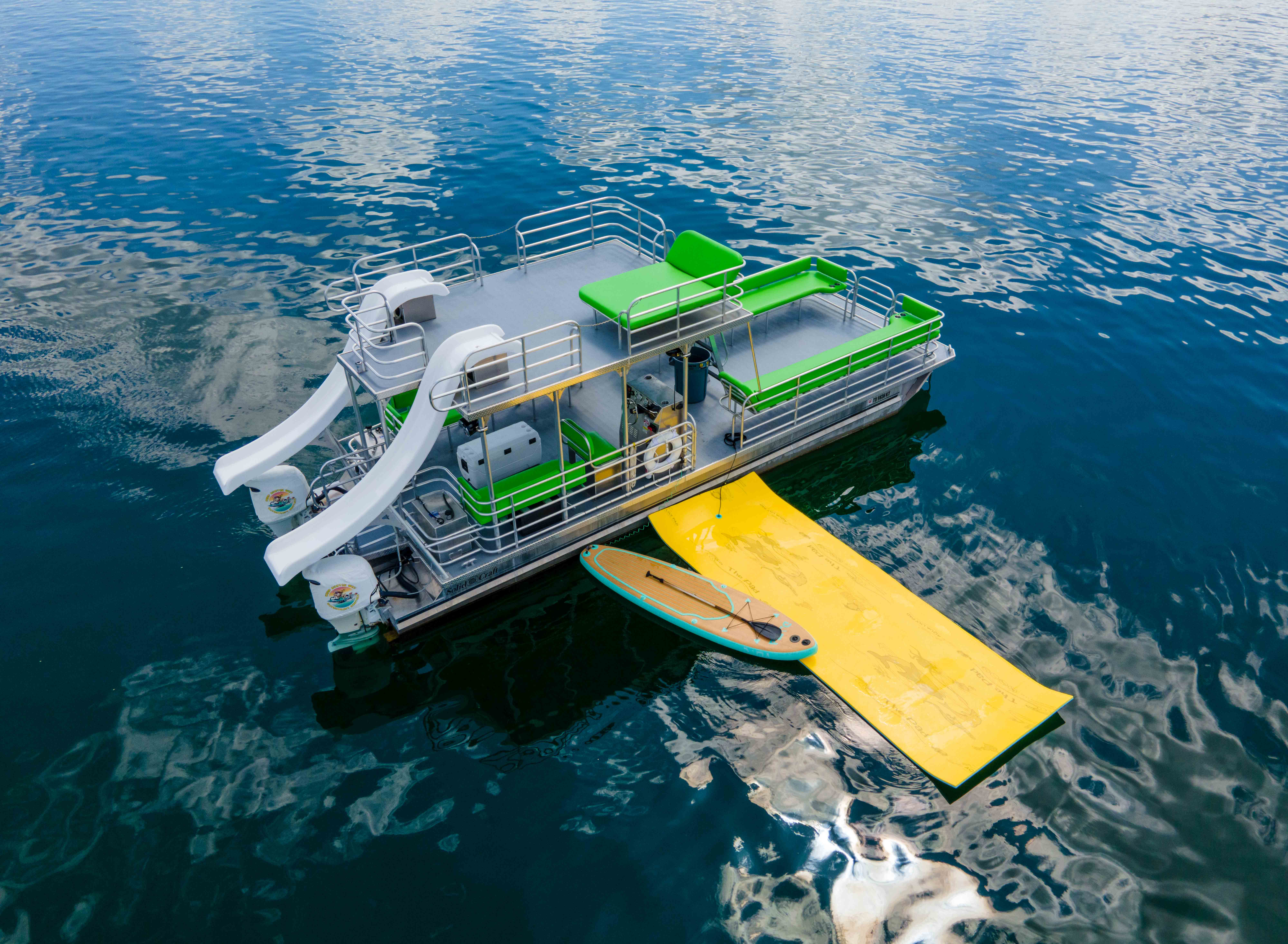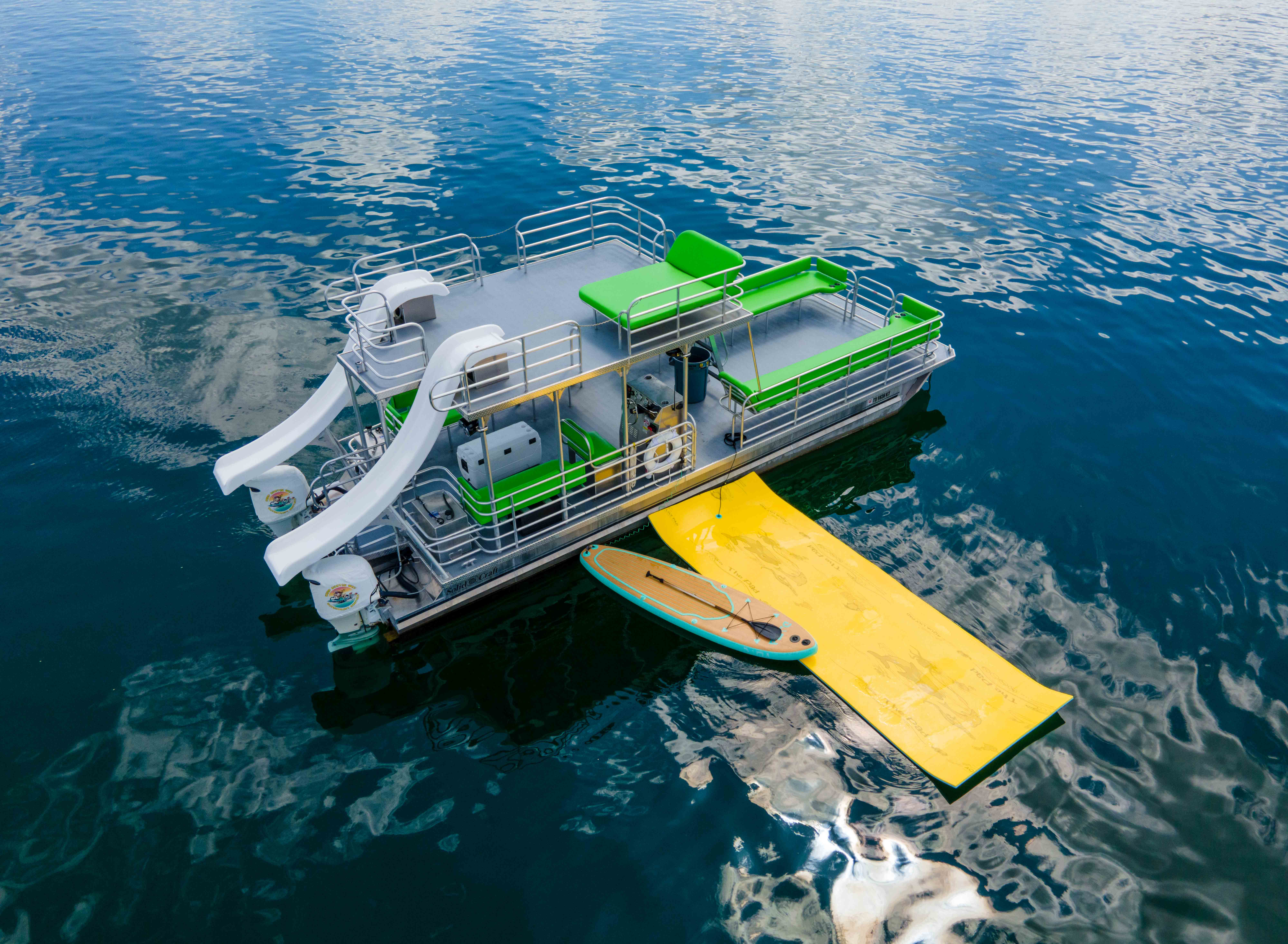 Other than the color of the seats and the length of the boat, there's no difference between our 30ft and 32ft Double Decker Party Barges. For more pictures, see our 30ft Party Barge.
These brand-new custom-built vessels will turn heads and provide your group of up to 25 people with a spacious and fun time.
Boosting TWO slides and twin 115 hp Suzuki engines. Comes with Aqua Lily Pad float, stand-up paddle board and an AMAZING Bluetooth stereo. It is a tritoon, which have 3 pontoons making for a safer, more stable, and smoother ride!

All Keep Austin Wet's boats are allowed in Devil's Cove - the party cove on Lake Travis! We can also find quiet coves for relaxing and swimming.

IMPORTANT - After completing your booking you will receive a confirmation email and a receipt to the provided email address. Read the confirmation email in its entirety BEFORE coming out with us. Always check your Spam/Junk folders as it tends to get sent there. Please contact us if you do not receive the email. You are responsible for knowing the information in this email.

---
LOCATION:
Our Lake Travis pick up location is at Paradise Cove Marina, located at 17141 Rocky Ridge Rd, Austin, TX 78734. $20 per vehicle for parking. $5 per person for rideshare/drop off. We know this a less than desirable policy, but we unfortunately have no control on what Paradise Cove Marina charges.
Pick up and drop off at private residences are subject to additional fees and must be approved through the office before booking online. Not available on our Double Decker Party Barges on Saturdays.
Transportation: If you're looking for transportation to and from the marina, we highly recommend booking a party bus/van/limo through one of Austin's many transportation companies. Rideshare companies do frequent the area but can sometimes be unreliable–although, many people use this option too.

---
PRICING:
DEPOSIT: 50% deposit due at time of booking. The card used to reserve your rental will be saved to your account to be processed for the remaining balance after your rental has been completed. If you'd like to use a different card on the day of your rental, you're welcome to update the card information with your captain. Please limit the checkout process to ONE card. You can add gratuity to the card on file at that time or bring cash for your captain. Due to the nature of our business, we do not accept cash payments for your boat rental.
6% booking fee on all rentals, booking fees are non-refundable in all situations. Taxes and booking fees are reflected when booking.
A minimum 20% gratuity is not reflected in the total, at the time of booking. Gratuity will be added to all rentals upon checkout and final payment on the day of your rental with your captain. The gratuity is calculated on the total before fees and taxes. If the minimum gratuity is not received by the captain in full, at the end of the rental, the gratuity (partial or full) will be charged to the card on file.

Renter must be present on the boat and provide photo identification to match the credit/debit card used for the reservation, upon arrival.

SUNDAY FUNDAY - all rentals booked 4 hours or more are 20% off. Use code SUNSOUT20 at checkout. Not applicable on Holiday weekends. (Exp 3/10/24)

$100 off of Monday-Friday on rentals booked 4 hours or more. Use promo code LAKEDAY100 at checkout. (Exp 3/10/24)

Add a beer pong table to your boat rental for only $50! Comes with table, 50 cups, and 4 pong balls.
POST SEASON 2023/24 (Tues after Labor Day - Mar 10)
Monday - Thursday: 3 hour: $700, $200 add hour
Friday & Sunday: 3 hour: $900, $250 add hour - 20% off on Sundays
Saturdays: 3 hour: $1150, $350 each add hour

PEAK SEASON 2024 (March 11 - Nov 3)
Monday - Thursday: 3 hour: $700 / $225 add hour
Friday & Sunday: 3 hour: $975 / $325 add hour
Saturdays & Holidays: 4 hour: $1800 / $450 add hour
2024 Holiday Dates:
May 26th-27th, July 4th-5th, Sept 1st-2nd
All prices and dates are subject to change.
---
INCLUDES:
♦ Experienced KAW Captain
♦ Fuel
♦ Stand Up Paddle Board
♦ Aqua Lily Pad Float
♦ 165qt Ice Chest (no ice)
♦ Bluetooth Stereo system
♦ All Safety Gear (life jackets, infant-2XL)
♦ Trash Can
---
Cancellation/Deposit Refund Policy:
Booking fees are nonrefundable in any situation of a cancel.

Booking fees are 6% of the rental cost (before taxes and gratuity).

We ask for 50% down of your total rental cost. You may cancel your reservation for any reason 15 days before the date of your rental via email (info@keepaustinwetwatercraft.com) at no charge. If you cancel within 14 days and 7 days we will hold $100 and refund the remaining balance. Cancellations within 7 days will result in full loss of deposit and all rentals cancelled within 72 hours will incur a 100% charge.

(Booking Fees are non-refundable)

In the event it is raining or there's severe weather at the time of your rental we will cancel at no charge, but we will not cancel based on the forecast but rather day of conditions.

Any payments/deposits will be refunded if reservations are cancelled by KAW due to weather.

(Booking Fees are non-refundable)

There is no compensation for late arrivals or early return.
A "no call, no show" is called 30 minutes after the reservation start time when we've had zero contact from the client and they're not reachable by the contact info provided. This results in a full charge to the card on file and forfeit the rental.
Any modifications must be made prior to 15 days before the rental date, in the event you need to modify an existing rental we will try our best to accommodate the request but make no guarantees.